Velscope oral cancer screening tool is used at
 Axiom Dental Group. Oral cancer screening technology uses a special light to visualize tissue.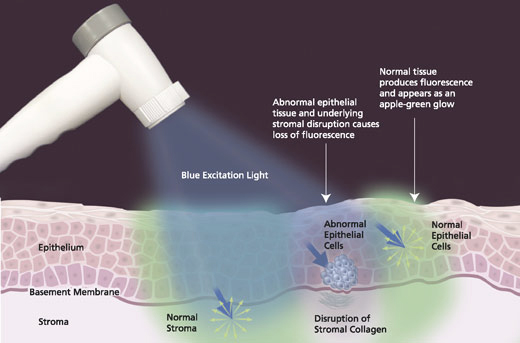 Velscope oral cancer screening involves both a tactile and visual exploration of the oral soft tissue at least once every year to screen for suspicious looking areas in the mouth.
Risk factors for oral cancer:
Tobacco (both smoking and chewing)
Excessive alcohol consumption
Excessive unprotected exposure to the sun
Poor diet
HPV (human papilloma virus) infection
Use of betel nut and bedis
Signs and symptoms:
Red or white discoloration of the oral tissue
Any sore in the mouth that does not heal within 14 days
Hoarseness which lasts for a prolonged period of time
A sensation that something is stuck in your throat
Numbness in an area of your mouth
Difficulty in moving your jaw or tongue
Difficulty in swallowing
Ear pain which occurs on one side only
A lump or thickening in the mouth or neck area
Velsope oral cancer screening technology helps us to visualize tissue under a special light to look for any changes happening in the tissue. On discovery of a suspicious area, we recommend following up with a biopsy and treatment if required.
Watch this video about Velscope oral cancer screening as seen on the Dr. Oz show: