Same-day crowns are also known as CEREC single-visit crowns. Dental crowns in one day with CEREC crowns from Axiom Dental Group, Aurora.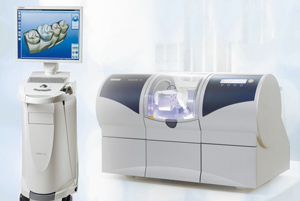 CEREC restorations are precise all ceramic restorations designed and fabricated using state of the art computer CAD/CAM software and a milling machine – all done in a single visit! CEREC crowns have a beautiful natural appearance. Axiom Dental Group is excited to offer same-day crowns with CEREC CAD/CAM restorations.
Advantages of CEREC CAD/CAM restoration:
Highly-esthetic restoration
Highly-durable ceramics
Precise fit
Single appointments
No temporary crowns required
No messy impressions
Saves patients from multiple appointments
Restorations range from indirect filling, inlays, onlays, dental crowns and porcelain veneers
CEREC process involves the following:
Preparation of the involved tooth
Capturing a digital image of the prepared tooth structure with aid of a digital camera
Using state of the art computer design software, a precise restoration is then designed and milled out of a porcelain block
The restoration is polished, glazed and bonded directly to the tooth structure – all within the same appointment
Ask us about CEREC CAD/CAM restorations today!
Watch this video from CEREC about same-day crowns, also known as single-visit crowns, all-ceramic restorations: