Dental crowns and dental bridges from Axiom Dental Group, Aurora. Dental crowns, same-day crowns from CEREC. Dental bridges can be fixed or removable.
Dental crowns help to: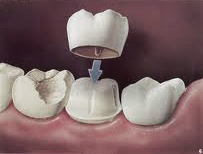 Increase the strength of the tooth
Improve the appearance and shape
Improve alignment of teeth
Dental crown restorations are also placed on top of an implant to provide a tooth like structure to aid in function and aesthetics. 
A crown is a type of dental restoration which completely caps or encircles a tooth or dental implant. Crowns are often needed when a large cavity threatens the ongoing health of a tooth. They are typically bonded to the tooth using a dental cement. Crowns can be made from many materials, which are usually fabricated using indirect methods. Crowns are often used to improve the strength or appearance of teeth. While inarguably beneficial to dental health, the procedure and materials can be relatively expensive.
Watch this video from the American Dental Association about dental crowns:
We recommend dental crowns for the following reasons:
Replace a large filling when there isn't enough tooth structure to withstand biting forces
Protect teeth from fracturing
Teeth which have had previous root canal treatment
Cover a discolored or poorly shaped tooth
For dental implants
As part of a dental bridge
Dental Bridges
A dental bridge is commonly used to replace one or more missing teeth. Dental bridges can be removable or fixed bridges. Fixed bridges are cemented to existing teeth or implants surrounding the area of the missing tooth/teeth.
Dental Bridges help in avoiding: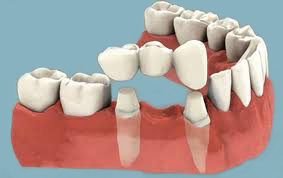 Unsightly gaps
Rotating or shifting of teeth
Misaligned bite
Gum disease
TMJ related disorders
Dental crowns and bridges can be made out of ceramic, ceramic with metal or all metal. Wikipedia describes dental bridges as follows: A bridge is a fixed dental restoration used to replace a missing tooth by joining an artificial tooth permanently to adjacent teeth or dental implants.
Types of bridges may vary, depending upon how they are fabricated and the way they anchor to the adjacent teeth. Conventionally, bridges are made using the indirect method of restoration. However, bridges can be fabricated directly in the mouth using such materials as composite resin.
Watch this video from the American Dental Association about fixed and removable dental bridges: