We recommend routine dental checkups and professional dental cleanings.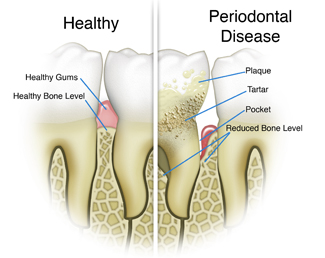 Dental cleanings should be performed at least once every six months along with daily home-care routine to maintain the health of your teeth and gums.
Symptoms of gum disease:
Bad breath
Red or swollen gums
Tender and bleeding gums
Pain on chewing
Loose teeth
Sensitive teeth
Gums pulling away from teeth / receding gums
Gingivitis:
The presence of plaque and tartar for long periods of time on your teeth can cause inflammation of your gums. This is called gingivitis. In gingivitis one experiences bleeding gums, redness and pain. This is easily reversible with routine professional dental cleanings by a dentist or dental hygienist followed by daily brushing and flossing at home. Good oral hygiene aids in healing and regeneration of oral tissue.
Our office recommends a professional dental cleaning at least twice a year. Removing plaque from teeth and gums decreases the risk of cavities and gum disease.
Watch this video from the American Dental Association about the prevention and treatment of gingivitis and gum disease:
Periodontal disease:
When gingivitis is not treated it progresses to periodontitis. In periodontitis, the supporting structure around individual teeth fails. Gums pull away from teeth forming pockets that harbor bacteria. Bacterial toxins and body's natural response to the infection starts to breakdown the bone and connective tissue that hold the teeth in place. Teeth eventually become loose and have to be removed.
Periodontal disease can be treated by deep cleaning method called scaling and root planing. Scaling involves removal of tartar above and below the gum line; root planing gets rid of roughness on root surface that harbor bacteria. In some cases lasers, medications and surgery is required to treat the condition.
Recent research suggests that presence of long-standing gum disease and inflammation may potentially put you at a risk of serious systemic disease such as:
Cardiovascular disease
Bacterial pneumonia
Low birth weight babies
Diabetic complications
Osteoporosis
Watch this video from the American Dental Association about the importance of regular periodontal screenings:
Maintaining  your oral health during orthodontic treatment:
Routine dental checkups and professional dental cleanings are critical during orthodontic treatment. Brushing and flossing after everymeal is necessary to maintain the health of gums and teeth. Use of a fluoride rinse is also highly recommended. A Waterpik is a wonderful device to flush water or mouthwash around orthodontic brackets and wires to remove food debris effectively.
Maintaining your oral health during pregnancy:
During pregnancy, expectant mothers experience significant changes including changes in oral health. Pregnancy gingivitis occurs commonly during pregnancy. Hormonal changes in the body cause a greater reaction to dental plaque resulting in increased amount of redness, swelling and bleeding. Recent studies have shown that premature births may be linked to gum disease. The organism P. gingivalis, that causes gum disease triggers production of prostaglandins. Prostaglandins are suspected to induce premature labor.
We recommend having frequent dental check ups and cleanings along with proper daily oral care routine, which includes brushing and flossing.
Maintaining your oral health during cancer treatments:
Cancer treatment can affect oral tissue and presence of oral disease can complicate cancer treatment. Medically necessary oral care before, during and after cancer treatment can decrease the risk of oral complication and enhance patient survival and quality of life.
For patients experiencing dry mouth due to radiation or chemotherapy should consider the following:
Sip water frequently
Chew sugar free gum
Use saliva substitutes
Use fluoride
Frequent professional dental check ups and cleanings
Optimum oral hygiene, adequate nutrition and use of topical fluoride is absolutely necessary to avoid dental problems during cancer treatment.